Hi everyone! Halloween is near! Let's play!
Games people play:
Ghost in the Graveyard is a fun game to play outside in the summer and fall. This game may also be known as "The Witch Ain't Out Tonight", "Ghost is Out Tonight", and "Bloody Murder". It's not only fun, but it's also good exercise. This is an old game that has been handed down from one generation to another. There are several ways to play. The main objective is to pick a ghost who will hide while other players search. The ghost then tries to tag a player while the players try to get back to home base.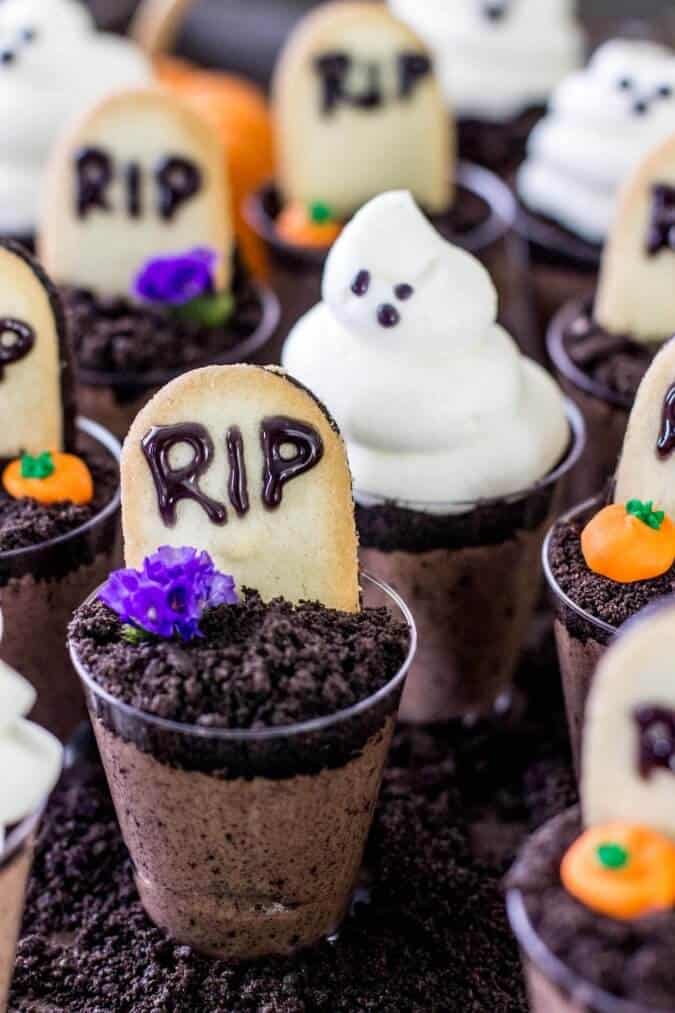 But what about my favorite "Ghost in the GraveYard" The Dessert!
That's what I'm talking about ….
Halloween a mere 10 days away, I thought you might appreciate a semi-spooky Halloween dessert.
Honestly, I've hardly done any preparation for Halloween this year (aside from growing my own pumpkin, yes I did and I'm quite proud of myself).   Oh but I'm ready!
I thought that the very least I could do to try and get into the Halloween spirit and share with you my new favorite an update on the tried and traditional favorite of the family, Ghost in the Graveyard Halloween Dessert Shooters, a (non-alcoholic) chocolate pudding treat.
My mom used to make "Ghosts in the Graveyard" when I was a kid, but it was done a little differently. The classic dessert is made in a 13x 9 aluminum pan (at least, it was in our house), the graveyard constructed of pudding and topped with cookie crumbs, cookie tombstones, and ghosts. That's because we always took some home when the kids were little – yup, spoiled! (working mom)
I remember planting the Milano cookies in the pudding and then strategically carving out my slice of the "graveyard" so that I got all of the candy, tombstone and ghost. (all the good stuff) Those Mellocream Brach's OH MY HEAVEN 🙂 and … Those Milano Cookies!! OH YUM!
My co-conspirator and friend, Alison used to ask for this recipe every year … right Alison? 🙂
Anywho, I decided this year to make these treats mimicking a friend's recipe from her bag of trick's using same chocolate filling mixing in with a heavier portion of chocolate pudding, cool whip and stirring in crumbled Oreos for a "dirtier" spookier, grainier look. (fill free to use ready made chocolate pudding on the go)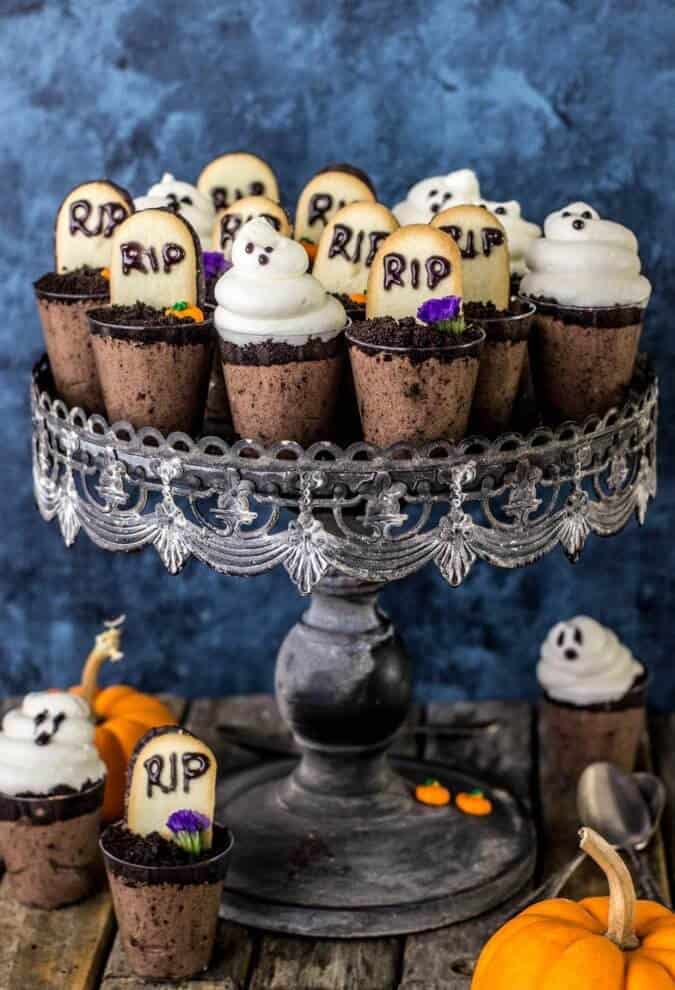 Credit : random internet posts…
Ghosts in the Graveyard Halloween Dessert Shooters
Chocolaty, single-serving-sized, not – so – made-from-scratch Ghosts in the Graveyard Treats.  These are a perfect Halloween dessert!
What You Need (parts of this recipe are from KRAFT)
| | |
| --- | --- |
|  Recipe development from my personal – | Creative Brain:) |
| | |
| --- | --- |
| Save time! | Working Mom's passion – wing it! |
2 pkg. (3.9 oz. each) JELL-O Chocolate Flavor Instant Pudding

1 tub (12 oz.) COOL WHIP Whipped Topping, thawed, divided

15 OREO Cookies, crushed (about 1-1/2 cups)

Assorted decorations: 3 oblong vanilla creme-filled sandwich cookies, decorating gel, 5 candy pumpkins, 10 candy corn pieces

Milano cookies for tombstones

Plastic Shooter Glasses
Brach's Mellocreme Candy
Be as creative as you wish!
Decorator's Gel
Or Buy ready made Chocolate pudding like me!
Love From Mom!
Make It!
Beat pudding mixes and milk in large bowl with whisk 2 min. Let stand 5 min. Stir in 3 cups COOL WHIP and half the cookie crumbs. Spread into 13×9-inch dish; sprinkle with remaining crumbs.

Refrigerate 1 hour. Meanwhile, decorate sandwich cookies with decorating gel to resemble tombstones.

Insert decorated cookies into top of dessert just before serving. Add candies. Drop large spoonfuls of remaining COOL WHIP onto dessert to resemble ghosts.

Wing it your way!
Serve to those GHOSTS and GOBLINS and HAVE FUN!