Bravo to the Avocado — Why It's Super
The avocado has many nutritional benefits, ranging from cholesterol management and high fiber content to alleviating arthritis and potentially lessening the side effects of chemotherapy . Here are a few key reasons avocado is the way to go:
Beyond Guac — Your Action Plan
The first step of adding avocado to a healthy diet (and perhaps the most daunting one) is knowing which fruit to pick. A good rule of thumb is to buy the fruit when it's firm, and let it ripen for a few days before eating. To know when the avocado is ready to eat, squeeze it lightly. It should still be somewhat firm, but with enough give that a knife could smoothly cut through it. Thanks to its versatility, avocado can easily be used on a sandwich, as a dip or salsa, in chilled soup, in a salad, in sushi, with an omelet, or even as a gelato. Or just scoop it right out of its skin! And even though we know that avocado can be so much more, don't forget the guacamole (yummy, yummy guacamole). Just keep in mind that there can be too much of a good thing. Due to the fruit's high-fat content (roughly 85% of the avocado's calories come from fat), most experts recommend consuming no more than roughly half of a whole fruit per day. Not into eating them at all? If an avocado is purchased too ripe or forgotten on the kitchen counter, don't let it go to waste! It's easy to turn an abandoned avocado into a homemade face mask or hair treatment.  Credit: Originally posted April 2011. Updated August 2012 by Laura Newcomer 
Then from our friends at Huffington Post – no shortage of Guac Tips out there friends!
How To Make The Best Guacamole: Tips And Mistakes To Avoid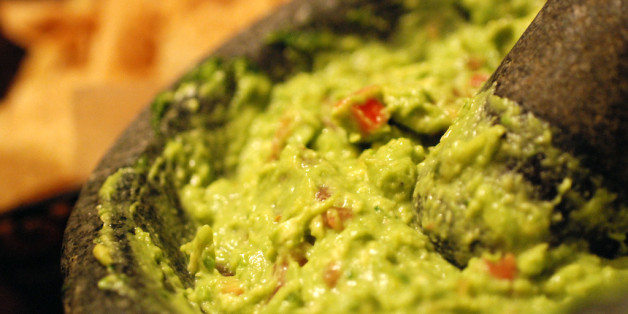 We don't mess around when it comes to guacamole. We understand the importance of this simple avocado dip. No party is really worth it unless there's guacamole — and a lot of it. Honestly, it's the only reason we even think about tortilla chips.
Guacamole is just one of those foods that makes people happy. So it's important to get it right. We've made countless recipes, and have eaten even more bowls of the stuff than we can remember, in search of the perfect guac.
With all that avocado dip consumption, we've gotten to the bottom of what makes a guacamole great — and what simple mistakes people make that can ruin the most perfect of foods. Don't be the person responsible for destroying such a good dish. Read on for what not to do when you make your next batch of guacamole (which we hope is within the next couple of hours).
Guacamole is so in these days. Seriously, you can go pretty much anywhere and find at least one dish with guac in it. The best thing about it is its versatility, and with football season just around the corner, here are a few new ways to include guacamole in your next tailgate.
7-Layer Dip
This dip is a fan favorite at every tailgate, and with seven different layers, you can enjoy bean dip, guacamole, cheese, sour cream and more in just one bite!
Deviled Eggs Stuffed with Guacamole
This app adds a new twist to an old favorite. Deviled eggs stuffed with guacamole will be your favorite addition to any avocado inspired menu.
Hotdogs with Sriracha Guacamole 
If you like a kick of spice, this is the perfect dish for you. This spicy sriracha guacamole dog is a great combination of classic foods with a new flavor.
Guacamole Hummus 
This. Hummus. Is. Yummus. It really is. It isn't your traditional hummus, either. This guacamole hummus is a mix of new with old, introducing a new flavor to your favorite dip.
Guacamole Nachos
This is a more traditional use of guacamole, but you know you love it. Nachos and guacamole go together like…well, nachos and guacamole. Plus, nachos make the perfect appetizer for any event.
And the best part about all of these guacamole dishes? Not only can you make them for your tailgate, but they're also easy to make after your tailgate, using the leftover guacamole!
Football season is just around the corner! Don't forget to put in your catering order so that you can enjoy all of your favorite Salsarita's favorites (like guacamole, duh!) when it's game time.