With Derby over and Spring in the air it's time to breathe and renew and get that body *NSYNC. Oh you know from our posts on facebook and instagram we do love those boy bands. So random I'm sure but it's true! Time to rise and grind again and have some fun!
We have been keeping you in the know on other social media spaces but do we feel bad we haven't blogged in a while? YES. But are we going to let regret get in our way? NO. No we aren't we are back in the studio gathering our thoughts. In case you didn't know we now have a create space … yup. I know Alison, this old lady had know idea what a create space was… I'm a learner and a seeker and so I let you and Samantha guide me into new fashionable ways around fitness training and eating healthy and fresh!
So here we go! We are ready to spring into SUMMERTIME SHINE!
This morning we were followed by a new account on instagram…. you know how we are inspired by of fresh healthy eating and living life well … https://www.watchwhatueat.com/
So you know what? They just had me at "follow back" Here's a quick intro about them …
"We are Swati and Tushar and love to cook. We are both Food Engineers and have a strong passion for our field of study, to the extent that we ended up doing our PhDs in it (can you imagine?). Being in this field for a while, we have quite a bit of knowledge about the processed, packaged and fast foods that we see around and what goes inside it during their processing. Therefore, we keep a watch on what we eat by adopting healthy recipes for our meals. We realized that eating healthy does not necessarily mean that we compromise on taste. Our passion for food and cooking has now led us to share some healthy, tasty recipes and the benefits of eating certain ingredients with the goal of inspiring you to eat well and live well.
We also meditate daily as we believe that for a healthy and balanced life, food is just one piece of the puzzle – peace of mind and inner satisfaction are equally important aspects. Regular meditation has brought inner peace within us keeping us joyous and satisfied."
You so need to check out their mantra and try this Blueberry Almond Butter Concoction! And more surprises… (Good Proteins) perfect for our Sammy Franny and others watching their protein levels!
Blueberry Almond Butter Overnight Oats
This easy overnight oats are perfect for hectic mornings and does not involve any cooking. A healthy, filling and delicious breakfast to kick-start your mornings.
How to make overnight oats?
You just need to soak rolled oats in milk for a few hours. It is the base for making these kind of recipes. You can add your favorite foods to make it delicious and healthy. In this particular recipe, I used almond butter, fresh blueberries, dried figs, and honey.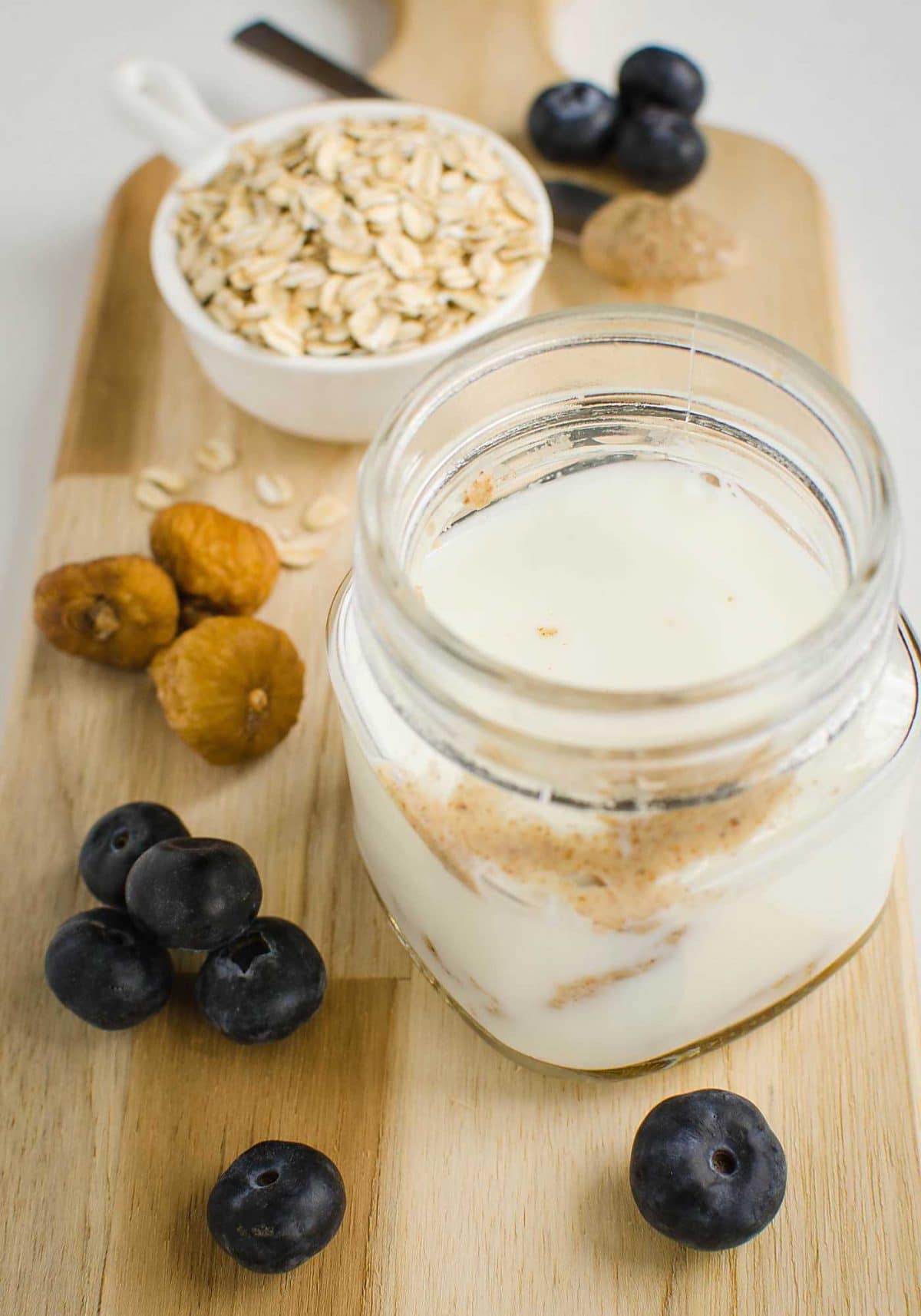 In a mason jar combine milk, almond butter, and honey. Whisk the mixture and then add rolled oats, figs, and some blueberries. Put on the lid and refrigerate overnight. Breakfast will ready even before you wake u
How this easy overnight oats are healthy?
These easy overnight oats are prepared using all healthy ingredients
Oats are an excellent source of dietary fiber, protein, vitamins B and various dietary minerals
Blueberries are considered the king of all antioxidant foods
Figs are a good source of soluble fiber and minerals. These are also a good source of antioxidants [1]
It is naturally sweetened with honey or agave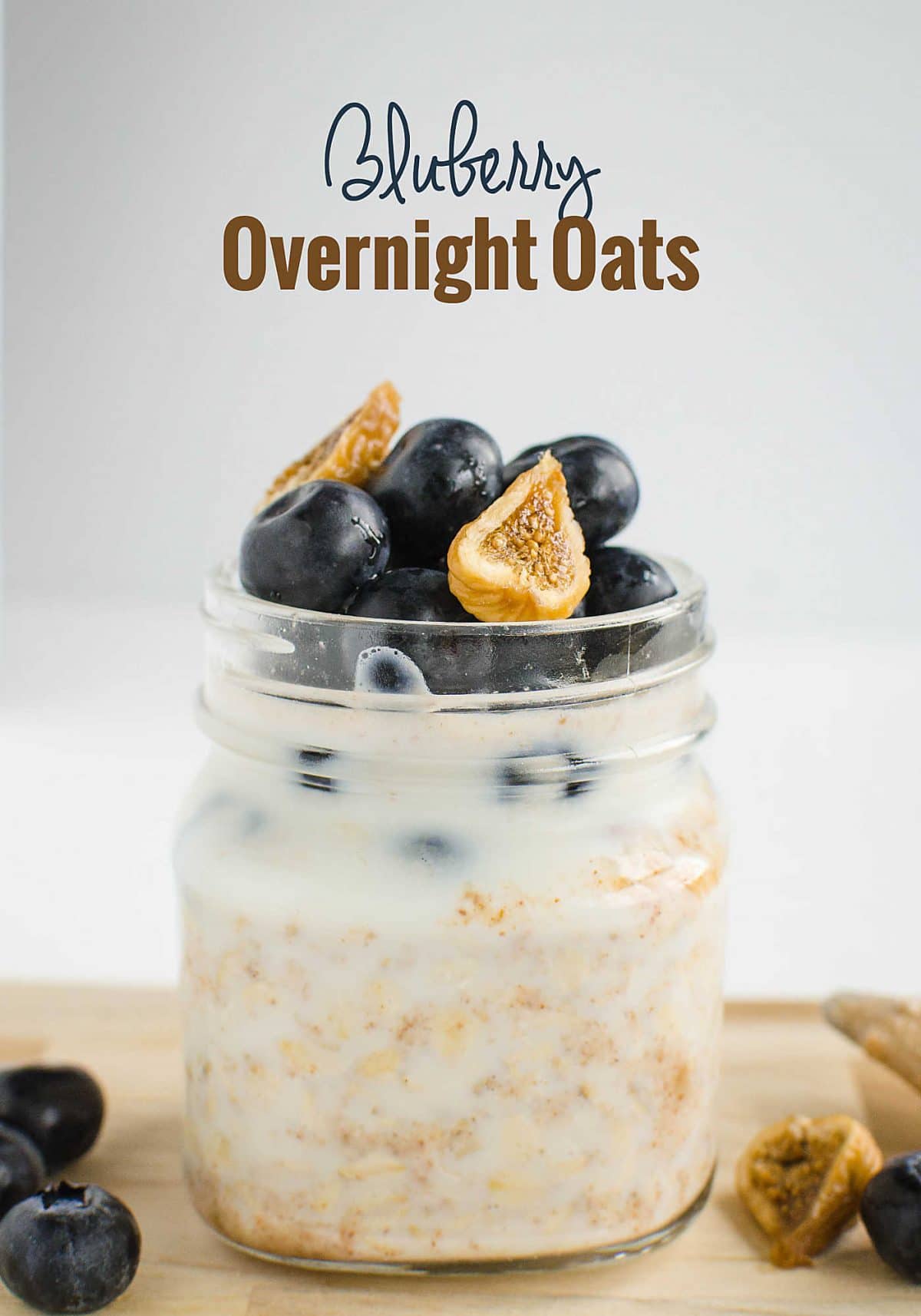 Easy Overnight Oats
Blueberry almond butter easy overnight oats for hectic mornings
Ingredients
1/3

cup

toasted rolled oats

1/2

cup

fresh blueberries divided

3/4

cup

nut milk if vegan or low-fat milk

3-4

dried figs halved

1

tbsp

almond butter

1

tsp

agave or honey
Instructions
Recipe Notes
Adjust sweetener according to your taste.
You can also use regular rolled oats if you want.
You may also like these additional breakfast recipes from Watch What U Eat