You know we adore Little Big Town! And then Taylor Swift … goes and writes "Better Man" (yes, that's me and my Samford roomie in the featured photo) As a proud Samford alum you knew we would be big fans but meeting them was pretty cool!  I have so many Little Big Town Stories but that's for later…
"If you're not a country music lover, you may not have known the members of Little Big Town by name until, you know, Taylor Swift went and wrote them a Grammy-nominated song. Don't worry, you're not alone. But here's the thing — not only is the band up for Best Country Duo/Group Performance at the 2018 Grammy Awards, they're also nominated for Best Country Album. Not too shabby. And now that you've heard them belt out the beautifully emotional Swift-penned lyrics of "Better Man," you're probably wondering just who are the members of Little Big Town?" – https://www.elitedaily.com/p/who-are-the-members-of-little-big-town-taylor-swift-wrote-them-a-song-7964459
Little Big Town Is Getting Its Own Country Music Hall of Fame Exhibit
When in Nashville!
Breaking News from our friends at IHEART Radio.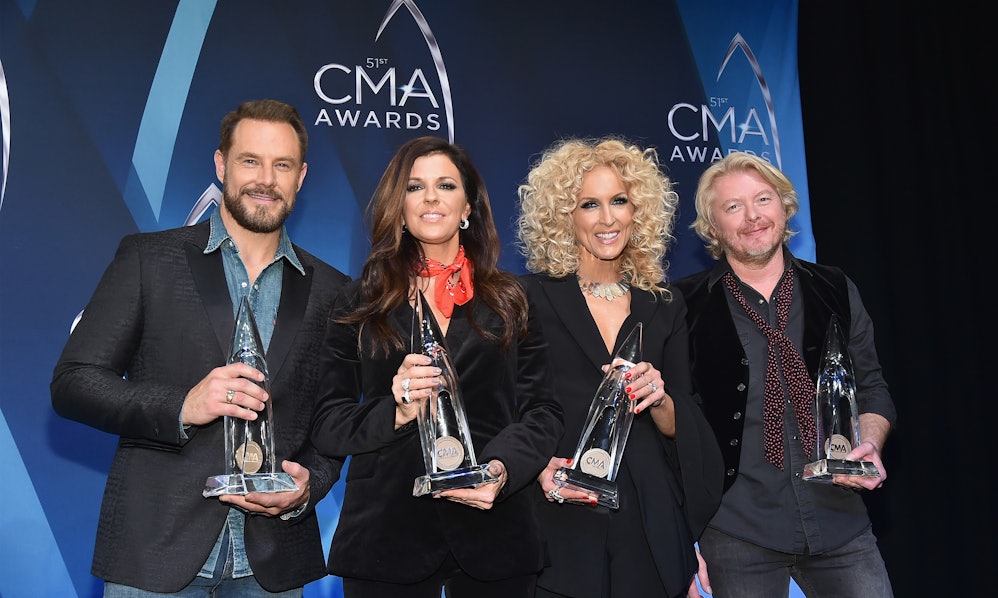 Little Big Town is on display!
The country quartet will be the subject of a new Country Music Hall of Fame and Museum exhibit called Little Big Town: The Power of Four.
The new exhibit tells the group's story from the beginning and includes keepsakes and photos from the group's storied career.
"Having an exhibit at the Country Music Hall of Fame and Museum is something we would never have thought to dream of for ourselves. It is beyond a dream come true," the band's Karen Fairchild says. "We are honored to be a part of country music, and are so thankful to all our fans, the music community here in Nashville and the museum for this privilege."
Other highlights include Neon signs used for the cover photo of Little Big Town's 2014 album Pain Killer, Karen's high school cheerleading uniform, Jimi's childhood trumpet and more.
Little Big Town: The Power of Four opens June 29, 2018, and continues through June 9, 2019, at the Country Music Hall of Fame and Museum in Nashville.
Photo: Getty Images
20 Questions With Little Big Town
More than likely, Little Big Town has been to your town. Here, the four members of the group — Karen Fairchild, Kimberly Roads, Phillip Sweet and Jimi Westbrook — answer fans' questions about their favorite big city, their musical influences and the lessons they have learned along the way.
1. How did the four of you cross paths?
Karen Fairchild: Kimberly and I went to college together at Samford University in Birmingham, Ala. We have been friends ever since and both moved to Nashville to pursue music. We just started dreaming and brainstorming about doing something together that would be different in country music. That was about 10 years ago. Jimi and I knew each other from some mutual friends, but he was still living in Birmingham at the time. I called him on a recommendation from a friend. He had already made up his mind to move to Nashville to pursue music, so the timing was perfect. We reconnected, and I introduced him to Kimberly. Jimi moved to Nashville, and then we started looking for the fourth member to complete the band. After a lot of searching, we met Phillip through a songwriter in town, and that is when Little Big Town came to be.
2. Since you came from small towns, what's your favorite big city?
Fairchild: My favorite big city would have to be Chicago. I lived in Indiana for several years and would always go into the city with my family for Cubs games or to visit the aquarium and museums on field trips. It is one of LBT's favorite places to have a day off. Lots of amazing sites and fantastic food.
3. Your last album, The Road to Here, had a few "heavy-on-the-heart" songs that really evoked some powerful emotions. Are there any songs on your new CD that have similar poignant viewpoints?
Fairchild: Definitely. A Place to Land has some pretty heavy moments, as well. "Lonely Enough" is a heart wrenching song written by Darrell Brown, Jessi Alexander and Jon Randall. Also, "Evangeline" is a story about a girl who allows herself to be emotionally abused. She doesn't value herself enough to get out of the situation. Kimberly really gave a powerful performance on this song.
4. One of my favorite songs on The Road to Here is "Bones." It's such a feature of your live show. Why was it never released as a single?
Fairchild: We love "Bones" and always wanted it to be a single, but you just run out of time on a record. Singles take so long to get up the charts these days. Maybe someday if (fingers crossed) we have a greatest hits CD, we could make "Bones" a single.
5. The song "Stay" was on the first album, re-cut for The Road to Here, and it is a fan favorite in concerts. Why was it never chosen as a single?
Fairchild: Yeah, this is another song that we look back on and wish could have been a single. Ballads are a tricky thing to figure out, timing-wise. We had discussed "Stay" so many times but just never pulled the trigger. Again, we still have hopes for this song. The fans seem to really connect with this one.
6. I heard you sing "Heartache Tonight" in concert and was wondering if the Eagles influenced all of you (or any of you) and your style of music. Do you ever perform any of their other songs?
Jimi Westbrook: Yes, the Eagles are definitely an influence. When you think of great harmony bands, you think of the Eagles. They strive for perfection in a live setting. We would love to hold up that standard of performance. We occasionally have performed "Life in the Fast Lane," as well.
7. Do you consider yourselves to be country or pop or country-rock? Your cover of Fleetwood Mac in your live show is fantastic.
Westbrook: I think we are country. … OK, maybe country-rock. … Hmmm … good question. What do you think?
8. What other artists in different genres of music besides country do you like to listen to?
Westbrook: We all love all kinds of music. I'm a big fan of the Foo Fighters, Ben Harper, Amos Lee, Coldplay, Corinne Bailey Rae and Chris Thile … to name a few.
9. Some artists get a big head when they get successful. How do you stay so humble?
Westbrook: We have been on the down and up side of the music business. I think that gives you a realistic perspective. That's also the beauty of having four members in the band. If one was to begin to have an inflated view of themselves, the others would quickly bring them back down to earth.
10. Now that Kimberly has a child, who takes care of little Daisy Pearl while they are on stage performing? Does Kimberly have a nanny?
Westbrook: Kimberly does not have a nanny. Her husband is out on the road with us. Phillip's wife is out on the road, as well, and she helps with the baby, too. We all take turns in one way or the other.
11. I heard that Jimi and Karen wanted to keep their relationship quiet at first. How have things changed since it came out that they are a couple? Do you think it has changed people's perceptions of the band?
Phillip Sweet: Things haven't really changed that much since they came out. It's really nice to see two people in love, and we totally support them in that. If it changes any perceptions about the band, then I hope it's a good one.
12. When putting together new music, how do you decide who sings lead? Do all for of you sing lead on every song then decide whose voice fits that song?
Sweet: That process is different for every song. We just follow our natural inclinations and then experiment from there. We also work hard to make the harmonies sound the best in certain keys, as well as the lead singer on that particular song. There have been times when we have all recorded leads on the same song just to see what worked the best.
13. What is your best advice for a wannabe country singer?
Sweet: Stay true to yourself, yet always be open to learn. Work hard, and never give up on your dreams, even when nobody else believes they can come true but you. These are not clichés but real tools you need no matter what you do in life to stay focused on your path.
14. Having so many people and personalities together all of the time, what do you to ensure that you all remain so close and get along?
Sweet: We just take care of each other. We keep it real, kinda like a family does. Save the drama for your mama!
15. How often do you disagree on something, and what do you disagree about?
Sweet: We rarely disagree, but when we do, it is no big deal. No big blowups in our band. We find it is just easier to talk about things out on the table, like adults.
16. What is your favorite thing about being on the road?
Kimberly Roads: My favorite part of being on the road is "watching the world through the windshield." We get the opportunity to travel all over this gorgeous country and take in the views along the way. I absolutely love watching the cows in the pastures — no kidding. I love cows.
17. What's been the hardest thing about touring in the past year?
Roads: I think the most difficult thing about being on the road is being away from family. We are blessed to be able to bring our spouses with us on the road, but we do miss our other family members very much. We spend a lot of time on the phone with them and look forward to them coming to our shows and to spending holidays at home with them.
18. After all the huge obstacles and politics in Nashville that you have had to overcome, what is the biggest lesson that you have learned as a group?
Roads: Through all the trials, we learned perseverance. We learned to never give up on a dream and to follow our hearts. And we learned how to love and take care of each other. I think we are very good at that now.
19. What kind of food do you eat on tour? Do you stop at restaurants, cook on the bus or have the food provided at the concert site? Is it hard to eat healthy?
Roads: Mostly we eat together at catering every day of the tour. On the CMT tour, breakfast, lunch and dinner are provided for us everyday and are outrageously good. We are quite spoiled now. However, when we hit the fairs and festivals along the way, we always go for the kettle corn and corndogs. … If you make an effort to eat healthy on the road, with a bit of work, you can make it happen. For the most part, we have decently healthy food on the bus, and catering offers lots of healthy selections. But if you need a good excuse to fall off the wagon, you've got a perfect one.
20. My question is about personalities. Who is the quiet person? The talkative one? Who is the moody one? Who is the brains around the band?
Roads: The four of us have totally different personalities that somehow work amazingly well together. None of us are really quiet unless we're extra tired. We usually all get shut up in interviews for talking too long. We certainly aren't lacking in the talking category. We all have our moody moments. We can read each other like a book, though, so we know when to back off and give someone a bit of space. And we know when one of us may need a little extra love. We call Jimi the jokester, Phillip the consummate dreamer, Karen the brains behind the business — and me the peacemaker. We mostly stay peaceful, so I don't have a hard job. I try to make up for the low demand by baking.